Wise Advice from St. Benedict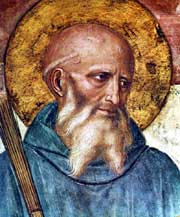 "Let them sleep clothed and girded with cinctures or cords, that they may be always ready; but let them not have knives at their sides whilst they sleep, lest perchance the sleeping be wounded in their dreams; and the sign having been given, rising without delay, let them hasten to outstrip each other to the Work of God, yet with all gravity and decorum."
-
The Rule of St. Benedict, Chapter XXII
St. Benedict is a very practical saint. I like that about him. He gives you the kind of directives that you can take and apply directly to your life. From this passage we learn not only about avoiding sleeping with sharp objects, but also about the benefits of sleeping in your clothes. This is a piece of practical advice I had to try for myself. Ok, so maybe he just meant, let them sleep wearing
something
, but for my purposes, I took it to mean the kind of clothes you could wear outside of your house!
I'm one of those crazy people who has signed up for a middle of the night shift at a nearby perpetual adoration chapel. So, having recently read this passage, I decided I'd try and apply the wisdom of St. Benedict to my life. I went to bed in comfortable clothes, woke up in the middle of the night when my alarm went off and then went directly back to bed in the same clothes when I got home from prayer. Don't worry, I was perfectly modestly dressed and I don't think I looked like I'd slept in the clothes (not that I exactly care at an hour when most sane people are asleep). I can jump out of bed quite easily and go back to sleep without ruining my sleep pattern too much, but St. Benedict's advice certainly makes this a little more convenient.
In case you're curious, I
did
get changed when I woke up in the morning before going to work!
Labels: quotes, St. Benedict